Kurt walked into the family room, wiping rain from his glasses.
"There's a fledgling out there. I think it fell out of a nest during the storm."
"What? Where!?" I asked.
"Right out under the birch tree,"  he replied.
"Where's Juniper?" I asked, immediately worried about our ferocious beast of a cat.
"She's out there, too," he said.
"What!?!" I squawked. Quickly I threw on shoes and ran outside, barely listening to Kurt's continued comments.
"I don't think she's touched her…the bird was upside down under the tree…I doubt it will make it…"
Sure enough under the birch, through the dark and rain, I saw a bedraggled mound of feathers. Nearby was Juniper, our beast of a cat. Luckily, as far as I could tell, she had not yet pounced. I raced over and quickly scooped her up with, I confess, some fear for my continued health and well-being, and dumped her inside. Quickly shutting the door, I walked back out to take a look at the bird. I crouched down in the grass speaking softly to it.
"Hey, baby bird, what's up? Did you take a spill? Where's your nest?"
The bird was upright, but still looked pretty pathetic, sitting in the grass with damp, black wings semi-splayed to each side. It was hard to see colors on the rain-darkened feathers, but it looked like there were some spots of white. What kind of bird is it? White spots…big beak…I wonder if it's a woodpecker?
Slowly I reached my hand toward it and immediately it fluttered, opened its beak and lunged toward me threateningly. I quickly pulled my hand back. (Confession: Lunge might be a bit of an exaggeration, but it definitely poked in my direction. I had a quick flashback to those raptors in Jurassic Park, expecting a loud rattling hiss to emerge from that little throat. I mean birds are related to dinosaurs, right? And that beak looked pretty large!)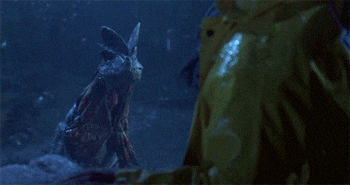 I regrouped and chided myself. Physical bravery has never been my forte, but this wee, soaking-wet, disheveled bird was clearly not going to injure me. Get a grip, Molly! Again, I looked down at it. The poor thing was clearly unable to move to safety and the rain continued to fall. Could its parents be waiting nearby? Should I move it into a tree?
Uncertain what to do, I went back inside and posted on a birding site that I'm a member of:
After a few minutes of anxiously waiting for a response, I was relieved to see the advice finally start flowing. Many people immediately suggested leaving it alone. One charmer advised me to set the oven to 350 degrees. Multiple people suggested calling Avian Haven, a wild bird rehabilitation center, for help. Unfortunately, a quick call confirmed that they were closed for the evening.
One vocal poster opted to lecture me about having an outdoor cat in the first place. This led to a tangential fire storm of posts as people rebuked him for giving unsolicited, unrelated commentary and advice, and he responded by posting multiple articles about cats and how they devastate the environment. This roused the cat lovers. He then suggested that cat owners who let their cats outside were inhumane and irresponsible, just letting their vulnerable cats out to die somewhere, victims of wild animal attacks. I'm not quite clear what his point was–that cats are killers or that they will be killed. Maybe both? That thread got a little heated and out of control and by the following morning was removed by administrators. I steered clear.
Meanwhile, I focused on the sane portion of the post, trying to figure out what to do.  The bird clearly was vulnerable where it was, but so often the experts say that people tend to intervene when they shouldn't. Finally, after a bit of research on the Avian Haven site and the consensus on the posts, I posted the following, still uncertain this was the correct course:
Shortly after posting that, I got a request to accept a private message. When I accepted it, I got this message.
Change of plans. I wasn't going to argue with an expert. I scrambled around the house assembling supplies, then quickly prepped a box. Dashing back out into the rain, I gently scooped up the fledgling, careful to avoid its beak. It struggled against my hands, but when I settled it on the soft towels in the box, it sat quite still. Clearly, this bird was shaken up. Poor little thing. I closed up the box and set it in the mudroom, crossing my fingers that I was doing the right thing and that the bird would make it until morning.
To be continued…